11 Nov 2014
20 Insightful Thanksgiving Day Quotes
On each 4th Thursday of November, Americans observe Thanksgiving, a nationalized holiday celebrating the initial settlers and their harvest feast called the first Thanksgiving. A long time before settlers got to the East Coast of North America, the region was populated by numerous Native American tribes. The area around the site of the very first Thanksgiving, now referred to as southeastern Massachusetts and eastern Rhode Island, was home to the Wampanoag natives for over 12,000 years, and was visited by previous European settlers before the Mayflower's arrival. The natives were familiar with the lands and hunted, harvested, and fished for many generations.
The people in the Plymouth Colony were a group of English Protestants who wished to escape the Church of England. A ship holding about 101 men, women, and kids spent 66 days journeying the Atlantic Ocean, intending to land where New York City is now found.
The Protestants prepared for the winter by gathering whatever they could find, including Wampanoag resources. Eventually, Samoset, a chief of the Abenaki, and Tisquantum (or Squanto) went to meet the settlers. Squanto was a Wampanoag who also knew English and had experience dealing with settlers before. Squanto helped the settlers grow corn and fertilize them with fish. Soon after a few meetings, a proper agreement was made between the settlers and natives and they joined forces to defend one another from other tribes in March of 1621.
At some point during that fall, 4 settlers were sent to hunt for food for a harvest feast. The Wampanoag heard gunfire and notified Massasoit, their leader, who believed the English could be getting ready for war. Massasoit went to the English settlement with roughly 90 of his people to check if this was true..
Just after their visit, the natives discovered that the English were simply hunting for the harvest feast, so Massasoit asked some of his own men to hunt deer for the feast. For 3 days, all the English and native men, women, and kids ate together. They also played ball games, danced, and sang. The meals included roasted meat, deer, corn, and shellfish, which is not even close to today's Thanksgiving foods. The majority of of what most Americans eat today on Thanksgiving wasn't accessible in 1621.
Although thanks and prayers were probably given at the 1621 harvest feast, the initial documented religious Thanksgiving Day in Plymouth occurred 2 years afterwards in 1623. At this time, the settlers gave thanks to God for rain following a drought that lasted for 2 months. Although the peace among the Native Americans and settlers lasted for only a generation, families around the world celebrate it today by giving thanks and helping others. Here are 20 Thanksgiving Day quotes you can share with your family as you gobble down turkey:
The Parent of Virtues
"A thankful heart is not only the greatest virtue, but the parent of all other virtues." -Cicero
The Highest Appreciation
"As we express our gratitude, we must never forget that the highest appreciation is not to utter words, but to live by them." -John F. Kennedy
Someone Else's Fairy Tale
"Be thankful for what you have. Your life, no matter how bad you think it is, is someone else's fairy tale." -Wale Ayeni
Making the Most of Life
"Not what we say about our blessings, but how we use them, is the true measure of our Thanksgiving." -W.T. Purkiser
Wealth is not Possession but Enjoyment
"I am grateful for what I am and have. My thanksgiving is a perpetual… O how I laugh when I think of my vague indefinite riches. No run on my bank can drain it, for my wealth is not possession but enjoyment." -Henry David Thoreau
Your Life is What You Give
"We make a living by what we get; we make a life by what we give." – Winston Churchill
Thanksgiving is Mutual
"Gratitude is the inward feeling of kindness received. Thankfulness is the natural impulse to express that feeling. Thanksgiving is the following of that impulse." -Henry Van Dyke
The Fairest Blossom
"Gratitude is the fairest blossom which springs from the soul." -Henry Ward Beecher
Thanksgiving Isn't Just a Day
"Thanksgiving Day comes, by statute, once a year; to the honest man it comes as frequently as the heart of gratitude will allow." – Edward Sandford Martin
The Way Home
"Forever on Thanksgiving Day the heart will find the pathway home." -Wilbur D. Nesbit
Don't Forget to Say Thanks
"Thanksgiving Day is a jewel, to set in the hearts of honest men; but be careful that you do not take the day, and leave out the gratitude." -E.P. Powell
The Power of Gratitude
"Gratitude unlocks the fullness of life. It turns what we have into enough, and more. It can turn a meal into a feast, a house into a home, a stranger into a friend." -Melody Beattie
Taking Things for Granted
"Be thankful for what you have; you'll end up having more. If you concentrate on what you don't have, you will never, ever have enough." -Oprah Winfrey
True Gratification
"If you are grateful for everything, then whatever you have is enough." -J. Baadsgaard
Count Every Blessing
"For each new morning with its light, for rest and shelter of the night, for health and food for the love and friends, for everything thy goodness sends." -Ralph Waldo Emerson
The Only Prayer
"If the only prayer you said in your whole life was, 'thank you,' that would suffice." -Edward Sandford Martin
Gratitude's Gift
"Feeling gratitude and not expressing it is like wrapping a present and not giving it." -William Arthur Ward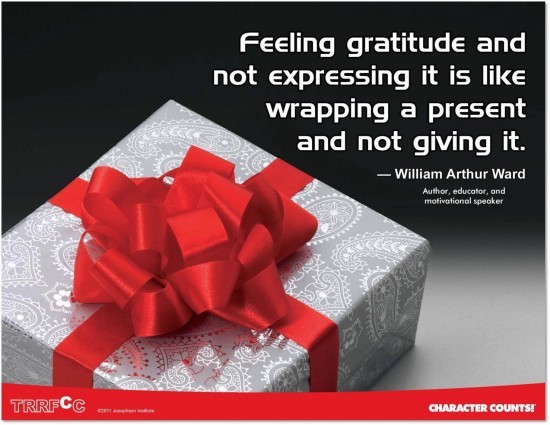 Sharing With Others
"If you are really thankful, what do you do? You share." -W. Clement Stone
Looking on the Bright Side
"We can always find something to be thankful for, and there may be reasons why we ought to be thankful for even those dispensations which appear dark and frowning." -Albert Barnes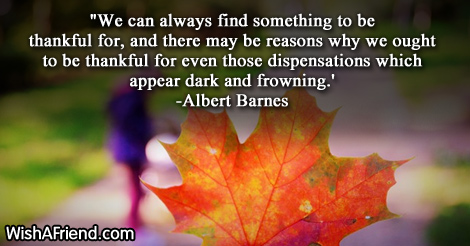 At Least You're Alive
"Let us rise up and be thankful, for if we didn't learn a lot today, at least we learned a little, and if we didn't learn a little, at least we didn't get sick, and if we got sick, at least we didn't die; so, let us be thankful." -Buddha